Korean Beef Bowl-Secret Recipe Club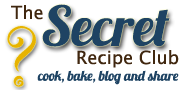 When I get my assigned blog for Secret Recipe Club, it is so much fun to go there and hang out for awhile. I try to skim through all the posts back to the beginning of the bog when I can. I found that I can find some hidden jewels in older posts.
This month my blog was Bitchin' Kitchin'. Ellie has been blogging since 2009 so she has posted many wonderful recipes. One of her recent recipes that caught my eye was Mini Double Chocolate Cake Donuts. They immediately went on my to make soon list, and I did consider them for my Secret Recipe Post. However, in looking through the blog further, I found Korean Beef Bowl and knew that was the recipe I would make to post. I was working on a Saturday that week and planned to pick up some Chinese food for dinner that night. I like to stretch the purchased food with fried rice that I make at home and thought that the recipe would fit right in with dinner. I am always on the look out for new recipse using ground beef, and this one was different from the ones I usually find. Ellie has great step-by-step photos.
I decided to serve the beef in lettuce leaves as sort of a wrap, hence the lettuce in the photo. Alas, I forgot to sprinkle the green onion over the meat in my photo.
Since I am a whimp when it comes to spicy food, I used only a pinch of red pepper flakes, and it was plenty spicy for me, so use your own judgment regarding how much red pepper you want to use. Next time I make this, I think that I will add some onion and red pepper to the mix. Thanks, Ellie for a great recipe that I will be making often.
A little note: Ellie has recently moved her blog to The Hobo Kitchen. You can access her recipes on either site.
Korean Beef Bowl from The Bitchin' Kitchin.
1/3 c. brown sugar packed
1/4 c soy sauce (I used low-sodium)
1t. sesame oil (I used toasted)
1/2 t. crushed red-pepper flakes (you may want to start with just a pinch)
1/4 t. ginger
1 T. vegetable oil
3 cloves garlic, minced
1 lb. lean ground beef
2 green onions, thinly sliced
cooked rice for serving if desired or lettuce leaves to make wraps
In a small bowl combine brown sugar, soy sauce, sesame oil, red pepper flakes and ginger. Beat until combined with a whisk. Heat vegetable oil in a large skillet over medium high heat. Add garlic and cook, stirring constantly until fragrant, about 1 minute. Add ground beef and cook until well browned, breaking the beef up as it cooks. Drain fat, if necessary. Stir in the brown sugar/soy sauce mixture and heat through, about 2 minutes. Turn in the serving dish and sprinkle with green onions. Serve immediately over rice or in lettuce leaves. Makes 3-4 servings.
If you would like to find out how to join in the fun of Secret Recipe Club, just visit the page here.
An InLinkz Link-up